Lily, 26 y.o.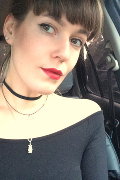 First Name:

Lily

Age:

26

Location:

Russia

Zodiac Sign:

Capricorn

Weight:

61kg

Height:

175cm

Eye colour:

Brown

Hair colour:

Light Brown

Body type:

slender

On your body there are:

Piercings

Smoking Frequency:

Never

Drinking Frequency:

Occasionally(Socially)

Sleeping habits:

I like to get up late
Language:

English 4 (Advanced)

Marital status:

Single

Want children:

Undecided

Do you agree to move ?:

I agree to move to another country

Your priorities in life:

Welfare/well-being
Balance of mind
Artistic self-expression
Career

Your income:

Constant average income

In my property:

A car

Where do you live?:

Separate flat/apartment

What do you think about travelling and meeting expenses:

I am not ready to pay

Education:

Graduate degree

Job Title:

Journalist
Keep my space:

Always clean for company

Describe myself at a party as a:

Impartial observer

When it comes to money:

I've been known to blow some cash but I know my limits

Do I enjoy dining out?:

I enjoy it

How often do I like to go out?:

Once a week

Do I enjoy cooking?:

I love it

Do I enjoy other types of Shopping?:

I like it very much

Do I enjoy grocery shopping?:

I really enjoy it

Do I enjoy gardening?:

Don't mind helping

Preference for pets:

I have Dogs, Cats
Age:

25 - 40

Country:

Eastern Europe, Western Europe

Height:

173 - 201 cm

Eye colour:

Any
Hair colour:

Any

Is it okay if they have children?:

No

Body type:

slender, Average, Muscular, Athletic

Ethnic Preference:

White/Caucasian
I enjoy spending free time:

In Nature, Pursuing a hobby, Catching up on household chores, Visiting a museum or gallery, Shopping, Playing with my pet, Having lunch with a friend, Curling up with a good book, Doing something athletic

Activities that I enjoy:

Weight lifting, Walking

Sports that I enjoy watching and/or playing:

Tennis

Forms of entertainment that I enjoy:

Wine tasting, Video games, Surfing the web, Reading, Museum/arts, Movies, Concerts, Board Games

Other hobbies or interests:

Shopping, gourmet cooking, dogs, creative writing
How would you describe yourself?

I'm a sweet and easygoing person. But only on weekends (haha jokin). But actually im really nice - i do prefer to smile and do something together. Also i'm passionate and ready to support my satellite.

How would you describe your ideal partner?

Can't say... We all are unique and fantastic

How often, and from whom do you ask advice?

I have absolutely fantastic gfriends and share everything with them. Really i am proud and happy that life gave me such girls And two of them arent still married

What quality do you value most in the people of your gender?

Patience. Sometimes we lack of patience and calm

What quality do you value most in the opposite sex?

Ability to keep their words.